Please Pump in Some Colour!
Artist(s)
General Mumble
Genre
Dance, dubstep
Released
19 May 2013
Recorded
Late 2012 - May 2013
Length
25 minutes
Label
Mumble Etc
Price
Name your Price digital download, $10 USD for CD
Cover artist(s)
djsckatzen - illustration

Poowis - design

Download
Bandcamp
CD
Createspace



Please Pump in Some Colour!
is the nineteenth album and the fifth physical release by
General Mumble
. The physical release also includes the EP
Bottlenose Tophat
.
"Four 2 Zero" is a remix of "The Next Episode" by Dr. Dre, Snoop Dogg, and Kurupt. "Don't Fall Down the Dubstairs" and "Derpstyyyle" reunite us with MD, the co-founding member of General Mumble. "Beat the Walls Down" is an experiment combining all of the aliases that existed at the time, excluding Genreal Mymbloe. The song has stylistic hints of an early Riikira song.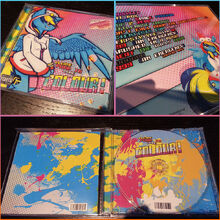 Track listing
Edit
Obnoxygen
Four 2 Zero
Down Fall Down the Dubstairs (with MD)
Derpstyyyle (with MD)
Brushed in a Rush
000000
Physical release track listing
Edit
Obnoxygen
That Box
Kersal Space Program
Four 2 Zero
Bottlenose Tophat
Don't Fall Down the Dubstairs (with MD)
Scientists Can Party
Derpstyyyle (with MD)
999 (An Emergency)
Brushed in a Rush
Beat the Walls Down (with Daemien and Spott)
000000
999 (An Emergency) (Rotløs Remix)